This pen is from a massive white oak tree stood next to an abandoned farm lane in the Shenandoah Valley near Mount Meridian near Grottoes, VA.  Over time this 350 year old tree stood proudly on the edge of a farm field  (located near Mt. Meridian in Augusta County, Grottoes, Virginia.) owned by Warren E. (deceased) and Catherine M. Wilkerson and their family until May 27, 2011.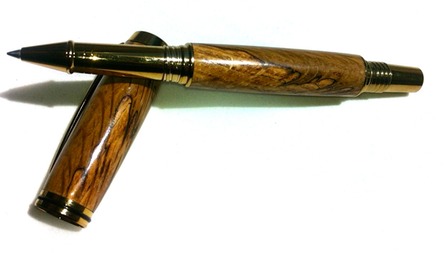 There are two accounts to the Legend of this "Prayer Tree."
1.)   According to local tradition General Thomas "Stonewall" Jackson stopped each morning after breakfast at a rear by house to pray under this massive white oak tree while his army was encamped nearby in the Shenandoah Valley campaign in May - June of 1862.  
2.)    Jackson and his 15,000 men, encamped between the Middle and South Rivers.  After the Shenandoah Campaign, General "Stonewall" Jackson ordered a day of thanksgiving…Jackson's men 15,000  gathered beneath this tree for prayer... so in the Shenandoah Valley lore, it became known as the "Stonewall Jackson Prayer Tree" .   According to Jackson's mapmaker, Jedediah Hotchkiss, Jackson joined the Rev. R.L. Dabney and others for prayer under the tree. A second account; The divine services were conducted by Rev. Dabney, followed by the holy sacrament being administered later that evening. Pvt. Joseph F. Kauffman, of the 10th Virginia Infantry, noted that "Gen. Jackson partook with the multitude."
The ancient white oak , which was diseased-weakened was down by high winds. May 27, 2011.  The tree attracted Civil War buffs because of its connection to General Thomas J. "Stonewall" Jackson.  It was estimated the white oak tree to be anywhere from 275 to 350 years old  and was considered one of 36 most historic trees in the United States, according to the  US Forestry Department. 
I enjoyed making this hand-craft rollerball pen.  Come and see it at the Mill Valley Fall Art Festival.  
_________________